26" Mini Micro Bead Hair Extensions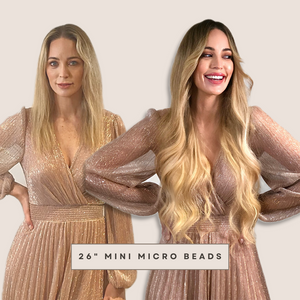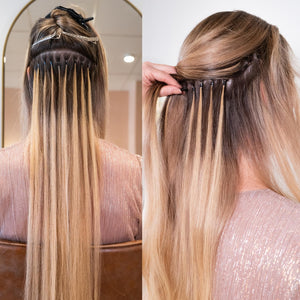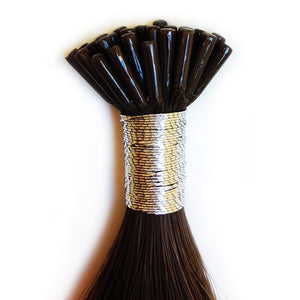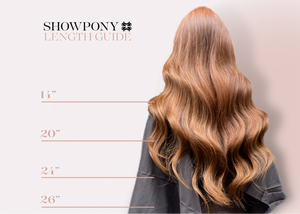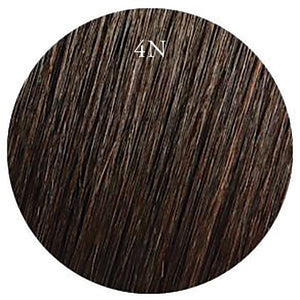 26" Mini Micro Bead Hair Extensions
Showpony Hair Retail Australia
Introducing the smallest Micro Bead Hair Extensions available. Made from the finest quality double drawn Remy A+ human hair, luxuriously thick through to the ends. 
26" hair is our longest length yet, perfect for adding extra volume and length to your signature look. 
Suitable for medium to thick hair. 
No glue or adhesive - gentle on natural hair and easy to remove and re-fit.

Length: 26" / 66cm (30 grams).
Please understand actual colours may vary from the images shown on your monitor or mobile display. Lighting conditions at the time the photo was taken may also affect an image's colour. For a free colour match consultation please contact our Customer Service team at admin@showponyaus.com.au. 
100% Remy Hair
Buy Now, Pay Later
GUARANTEE OF SHOWPONY PRODUCT
Showpony guarantees that its products are of merchantable quality (or applicable mandatory guarantees or warranties of the law in the country of purchase). The guarantee does not apply if the Goods are damaged because you did not follow the instructions set out in the Hair Care Information link under the FAQs section of the Website or damaged as a result of normal wear and tear, bleaching, colouring or unreasonable use or neglect.
Showpony guarantee the tape against slippage for four to six weeks when our Hair Care Information policy and instructions are followed by using our specific hair care range.
All claims must be made within 30 days of purchasing our product (except for faulty products). Any claims made after this time will be reviewed at the discretion of Showpony. 
CONDITIONS FOR RETURN OF PRODUCT
Showpony allows returns of:
(a) Goods that do not conform to the guarantee above; or
(b) If you change your mind, but due to health regulations for hair extension products, only if they are in their original unopened packaging. 
(c) Goods that are unworn and in the original packaging. 7-piece Clip In Hair Extensions and 3 in 1 Hair Extensions must not have the gold tie removed from the hair pieces. 
If you have not purchased the products directly from Showpony, then you must return the products to the place of purchase to request a refund or replacement. This applies if you have purchased our products from a salon, wholesaler or third party. No direct consumer complaints will be handled by Showpony unless specifically approved by Management.
RETURNS PROCEDURE
To organise a return, the following procedure should be followed.
Ensure you have read our returns policy and are happy your return meets our returns requirements. (If you are unsure please telephone our free call number 1800 233 386 (or +61 7 5522 0488) and one of our friendly customer service team members will be able to assist you).
Follow the 'Lodge an online return' link below to lodge your return. 
Please add your RA number which is your invoice / order number.
Ensure item(s) are in original packaging and suitable for resale.
Returns are to be sent back to Showpony Head Office at the customer's expense (unless proven faulty):
Showpony Returns C/ Megna Group of Companies
Building C/150 Dalmeny Street, Willawong QLD 4110 
Upon receipt of the returned goods, Customer Service will assess the product, and notify the customer of the outcome within 7 business days.
Any replacements (subject to available stock) or refunds will be processed by our Customer Service team within 14 business days of receipt of the return.
Please note any returns that don't meet our returns terms will be sent back to you. You will charged for the return freight.
Showpony will not be held liable for items which may go missing in the post during transit. For that reason, we highly recommend sending your parcel via Registered Post, and able to be tracked at all times.
If you have any kind of QUALITY concern, please call Showpony Head Office for assistance on our free call number 1800 233 386 or +61 7 5522 0488 and one of our friendly customer service team members will be able to assist you.

  

 
Retail Customers - Lodge an online return here
Wholesale Customers - Contact us on 1800 233 386
INCORRECT SHIPMENTS
We request that any queries regarding incorrect orders or missing stock be reported to our Customer Service Department via free call (1800 233 386 in Australia or +61 7 5522 0488) immediately and within 7 working days of stock being received. This will enable us to fulfil your original order and allow us to correct your invoice and account promptly and correctly. Hair will not be accepted if it is not returned in original packaging and in original condition.
REPLACEMENT OR CREDIT
For all warranty claims approved by Showpony, we will replace the product with the exact style and colour match as originally ordered. Customers will receive a credit or refund for the original cost if replacement is not commercially possible. A credit, refund or a replacement preference needs to be specified when completing the RA form and will be at Showpony's discretion (subject to applicable law).
REPLACEMENTS NOT SUBJECT TO GUARANTEE CLAIMS
Any requests for a replacement or colour swap that is not the subject of a guarantee claim, will incur a 10% handling fee of the total value.
MANDATORY LAWS
If the terms of this returns policy are inconsistent with the laws of the country of purchase of Showpony products, then those laws prevail over these terms to the extent of such inconsistency.
RECOMMENDATIONS
Weft hair extensions/ Mini Micro Bead hair extensions are only recommended for use on clients with medium to thick hair.
Tape hair extensions are recommended for all hair types – fine, medium and thick. Please note that customers with thick hair may require more than the recommended number of packets, to achieve the desired result.
Showpony's Hair Care range is especially formulated for use on all hair extensions produced by Showpony. Do not use shampoo or products containing Argan or Moroccan oils, protein, citrus, high alcohol content, Keratin treatments or lauryl sulphate. This includes any medicated or toning shampoos and fake tanning products. Using these products may cause tape slippage and/or discolouration to your extensions and may void your warranty.
WHAT OUR CUSTOMERS ARE SAYING
I USE SHOWPONY TO CREATE BEAUTIFUL EDITORIAL LOOKS

Showpony Hair Extensions are by far the best hair extensions on the market because their ombre two-tone colour range blends so  naturally and easily into so many hair colours. I use Showpony to create beautiful editorial looks for magazines and newspaper shoots as well as for models BTS at fashion weeks and shoots.

CATERINA DI BIASE

HEADING OUT HAIR AND BEAUTY
SHOWPONY PROFESSIONAL HAS THE BEST PRODUCT ON THE MARKET.

Hair Extensions have become a really popular service in our salon, and we are proud to be affiliated with Showpony Professional. I believe Showpony Professional has the best product on the market. Our clients are always providing great feedback about the quality, plus the support we get from the Showpony team is always so  professional and personal.

Stevie English

STEVIE ENGLISH HAIR
THE HAIR WE RECEIVE IS ALWAYS A VERY HIGH QUALITY AND OUR CLIENTS ARE NEVER DISAPPOINTED

I have been using Showpony Tape Hair Extensions at Circles of  Subiaco for 5 years. I have always found the team at Showpony to  be so efficient and reliable and we can guarantee our clients are  never left waiting for extensions that have been promised. The hair we receive is always of a very high quality and our clients are never disappointed. Recently Showpony have branched into mini micro bead hair extensions and we are enjoying building an even stronger presence and relationship in the world of hair extensions.

SHARLENE LEE

CIRCLES OF SUBIACO
THE GROWTH OF MY BUSINESS THROUGH OFFERING SHOWPONY HAIR EXTENSIONS HAS BEEN EXCEPTIONAL

For many years now, I've worked extensively with hair extensions and have trialled and tested many brands over my 22 year career and none have surpassed the quality and value for money as Showpony.

The growth of my business through offering Showpony Hair  Extensions has been exceptional. The business support is outstanding and education on a commercial and creative level is second to none.

At B&B Hair we like to offer our clients the best available products  on the market that's why when it comes to Hair Extensions the only brand we use and recommend is Showpony.

JOANNE BOULOGNE

COFOUNDER OF B&B HAIR SALON
SHOWPONY HAS HEAVILY ASSISTED IN OUR GROWTH WHEN IT COMES TO ALL THINGS EXTENSIONS

At Natalie Anne, we have been working with Showpony Australia for the last 4 years and must I say, it has been nothing but a positive experience. They have always offered us the best customer  service and support with whatever we need when it comes to  extensions and have always provided a high quality of hair.

Their service has led to the growth of our extension sector leading to amazing feedback from our clients. We started with clip in  extensions and have also added Tape extensions onto our menu.

Showpony has heavily assisted in our growth when it comes to all  things extensions and we look forward to working with them in  the future.

NATALIE ANNE

NATALIE ANNE HAIR